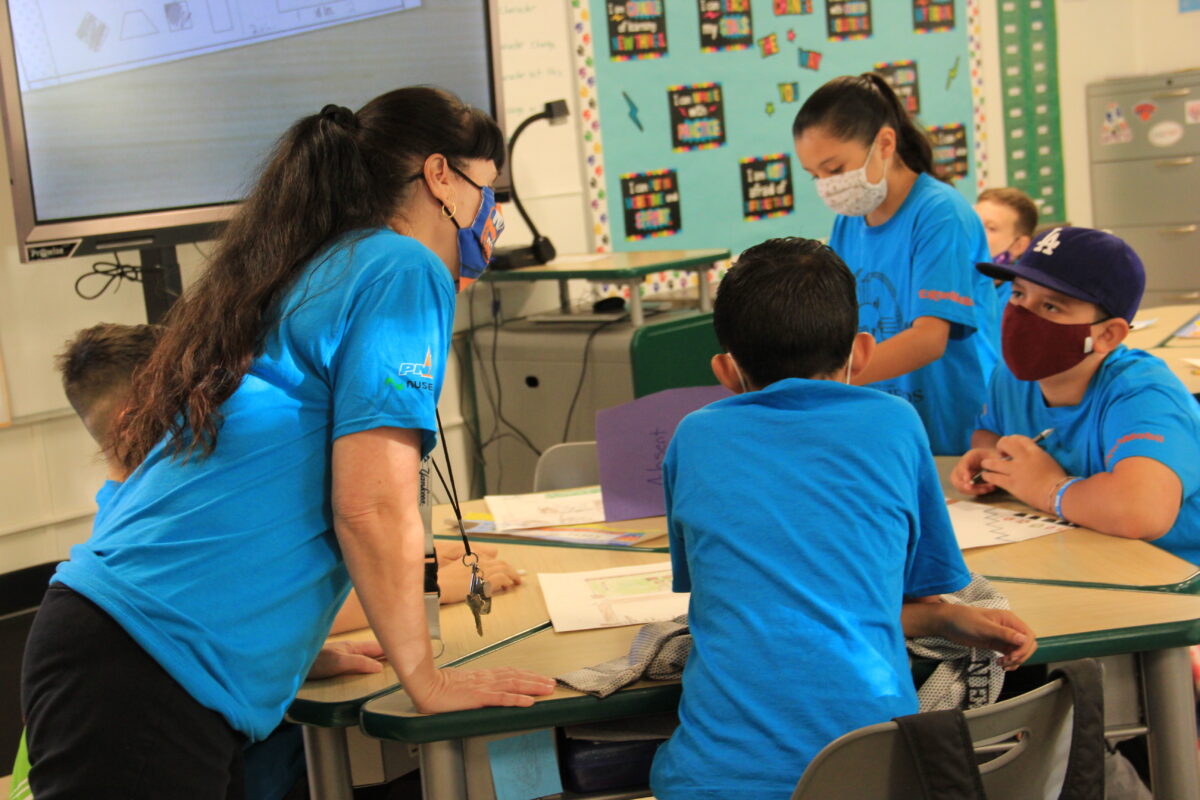 Editor's note: Robbi Berry, a fifth-grade teacher at Monte Vista Elementary School in Las Cruces, was recently honored as an "innovator teacher" by Teach Plus New Mexico. Teach Plus cited Berry's use of project (or problem)-based learning – " using student-identified, real-world challenges to guide learning and mastery of standards." Berry, who has been in the district for a decade, was also Las Cruces' 2021 teacher of the Year. Her students demonstrate academic growth of well over a year during their time in her classroom. Education New Mexico recently interviewed Berry about her background, philosophy, approach, and the keys to her consistent success as a teacher.
This interview has been edited for length and clarity.
Education New Mexico: Please tell us a bit about where you're from and how you got into teaching.
Robbi Berry: I grew up in Freeport New York, on the Queens-Nassau County border on Long Island. That's where I started teaching. My husband was career military so I've taught in New York, Rhode Island, Massachusetts, and New Mexico.
ENM: And how did you come to adopt problem-based learning as your approach?
Robbi: Freeport was a very rough district, very rough kids. I taught fifth and sixth grade there. I had a lot of kids who had parole officers, ran with gangs. I knew that I had to really engage them. If I didn't, I would have complete chaos and bedlam in my classroom. I learned real quick that if I didn't make it relevant to their lives, their attitude would be, 'why am I learning this?' So that's where my interest in PBL comes from.
I had some pretty hardened kids, and I would tell them, 'Look, I know we wear different hats, depending on where we are in our lives.' And I'd say that when 8 a.m. comes you can check your 'I gotta be the tough guy' hat at the door. I know you have to do that to survive when you go home and I totally respect that. But here you're safe and I just want you to do your best learning. A lot of those kids would run the drugs for the gangs because if they got caught, they were so young they'd only get a slap on the wrist but they also needed to do it for protection for where they lived.
ENM: Las Cruces must be quite a contrast to that life.
Robbi: (Laughs). These kids here, they try to be all tough and I'm like, 'sit down you have no idea. You can try it but listen, you don't even know what you're doing.'
ENM: Did you realize that what you were doing with your students in Freeport was PBL?
Robbi: I had no idea. I was just trying to figure out how I could reach these kids and make them want to come to school. That taught me so much about how it's not just 'here's a textbook, teach what's in it.' It has to mean something to those kids, otherwise they don't care. That early teaching experience really taught me about relevancy.
ENM: How did you end up in southern New Mexico?
Robbi: My mom had moved out here, and so had some other relatives. And then she got sick with pancreatic cancer. I left my husband and our life in New Hampshire and came here to care for her. I did a phone interview with the principal at Monte Vista and she hired me, thank goodness.
Within a year my husband came out to help me because my mother deteriorated quickly in the end. And we came to love it here. My husband and I are runners. We love to be able to go out in the desert and run the trails. The winter is not below zero and I don't have to worry about ice and snow. We were both like, this is a no-brainer. It's just beautiful to be here and run 12 months a year. So we decided to stay.
ENM: How has your use of PBL evolved over the years?
Robbi: I talk to my kids a lot about problems they see in their community and what are some solutions. They start out by saying 'we're only 10, 11 years old.' And I tell them 'That's OK, you still can have great ideas. So what are your solutions?'
I always start with problems because they can relate to it, it impacts them. And then we talk about ways to advocate for that change, the positive change."
ENM: I know you've had your students lobby at the Roundhouse. Can you talk a bit about that?
Robbi: We had been reading a few years back in my class about how pollinators were endangered, and if we didn't have pollinators, it would affect the whole lifecycle for everyone in the food chain. We helped write one of the legislative bills for pollinator license plates. This was before Covid, so we actually took that group up to Santa Fe and they met and lobbied with legislators in support of that bill.
They did all that and the bill passed. So that's why New Mexico has the pollinator license plate.
Then, last year and this year, during Covid, some of my students testified before the legislature and the local school board in favor of outdoor education and the outdoor classroom bill (Senate Bill 32) that passed during this year's session.
Editor's note: The legislation will result in the creation of two new positions at the NM Public Education Department (PED) to support outdoor learning statewide, more professional development focused on outdoor education for NM's teachers, and microgrants for the construction of outdoor classrooms on school grounds throughout the state.
ENM: Teach Plus also cited you for creating a safe community in your classroom. You told us about how you did that back in Freeport. How have you continued to do that work?
Robbi: We're the Berry Bunch. In all four states where I've taught there are Berry Bunches. I've always worked hard to create a family culture. Kids know that it's OK to be wrong. It's OK to make mistakes. If kids can't do that, then they're not going to do their best learning.We really build each other up, we don't tear each other down. I spend a lot of time on empathy.
I want them to feel safe, physically, socially, and emotionally. I want them to know that they can totally be themselves. That we're all going to have rough days. We all have things that happen outside of school, and we all come in with that. But we have empathy. We work through it. We talk to each other, and there's some days where I'm going to have to lift them up and then they know that there are days when they're going to have to lift me up because that's what a family does.
It's a legacy now. Parents ask 'what do we do to get into the Berry Bunch?'