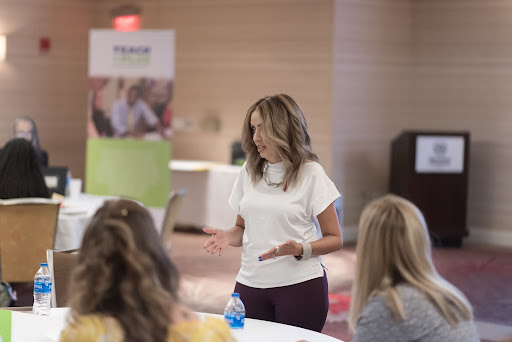 Editor's note: This article was written by Hope Morales, executive director of Teach Plus New Mexico
Cam was the name behind the data and the reason why I wanted to  make an impact beyond the walls of my classroom. His story was supposed to be similar to my own: Education was going to change his life. 
Instead, Cam died this April at the age of 15. I thought of all the ways in which adults failed him through his too-short life. I searched for someone to blame for the tragedy that took place in my community. Then I realized, it wasn't someone, but something, a system that had failed him.
Cam was barely a teenager when he was shot. His story was all too common for many children in New Mexico and similar to my own growing up. Because of his circumstances, he was identified as an "at-risk" student. Without a high quality education, year after year, it was all too easy for him to fall under the spell of negative influences. 
When Cam was my student six years ago, he struggled with reading, but he had an aptitude for math. I was able to harness that talent by getting him to tutor other students. I know I had made a difference; during that year, he was engaged and on a path to be successful the following year. 
I saw the potential in Cam, and through me, he got a glimpse of his own potential. I did worry though: Would the next teacher realize his potential? Would they have the resources to support his needs? Would the system build upon his growth as a third-grader? These questions weren't just for the next year; each academic year after that needed to be answered with a "yes".  
As someone who works on changing education policy for the better, whenever I've given presentations on the impact of powerful teaching, I've used Cam's story as an example. I'd show his picture and talk about that young boy in my class. I'd issue a call to action and ask other educators and leaders to help ensure that Cam and students like him across the state would graduate high school with opportunities beyond their circumstances.
I have to be honest. Along with the grief I've experienced since learning of his violent death, I have felt a great deal of anger. There are countless Cams in our communities. As educators, we cannot control or even influence every aspect of their lives. But we are life changers. 
It is not enough for us as educators to love our students. In addition to the love and dedication we have for them, we must ensure we are providing them with tools to be successful. The ability to read, problem solve, and create are some of skills that will give our students opportunities beyond their circumstances.
Students need access to effective teachers. Effective teachers need access to tools, resources and systems that are focused on students. Without meeting the needs of both our students and teachers, we risk failing our students.
It might seem ironic that it was Cam who inspired me to leave the classroom and start working in the policy realm. Now I am focused on developing systems and policies that will support students like Cam throughout their educational careers, so that every single year they have a highly effective teacher and resources to support their individual needs.
I had looked forward to the day when I told the world about how Cam overcame the circumstances in his life and graduated high school. I wanted to share how he was going to be the first in his family to go to college. His story didn't end that way. Cam remains my "why," but instead of sharing the celebration of his story while advocating for a quality educational system, I share its tragedy.
Let's make sure no other child's story ends in tragedy. Let's do everything in our power to produce great teachers, retain great teachers, and develop quality educational systems so that every Cam in a New Mexico classroom has access to opportunities beyond their circumstances.