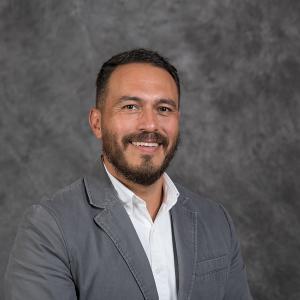 Editor's note: This article was written by Victor Zamora, a public school elementary teacher in Columbus, New Mexico. Victor is also a Teach Plus New Mexico fellow.
Every weekday morning and afternoon, I drive almost two hours through the desert of southern New Mexico from El Paso, Texas to teach at a public elementary school in the tiny border town of Columbus, New Mexico.
Why make that drive, when I could choose to teach El Paso, where I live? Because teaching at Columbus Elementary School feels like coming home. That suits me well, but, more importantly, it's exactly what my students need.
Over the years of my teaching career, I have developed a strong belief that students learn best when they can relate to their teacher on multiple levels. My own experiences as a young student also inform this belief.
I was born in Ciudad Juarez, Mexico and came to the U.S. in early elementary school. My teachers in El Paso were predominantly white. There was a huge cultural disconnect between most teachers and students from my background. For example, we were discouraged from speaking Spanish.
That disconnect made it more difficult to adjust to a new culture, a new language, and a new environment. Looking back, I recognize what a disservice that was to us and to our families.
I began teaching in Columbus this school year. Coming to Columbus in some ways felt like coming home. One reason for this is that many of the students who attend Columbus Elementary School live in the tiny village of Palomas, Mexico. They are bused to school when they cross the port of entry into the U.S. each day to attend school.
I noticed immediately that most of the students in Columbus were raised the way I was raised. You respect your elders. You say please and thank you. These characteristics are a strong part of the Hispanic culture. More than good manners, these students represent hope and I am part of that equation.
In Columbus, the school community is knitted in partnership between teachers, students, and parents. Parents and students alike demonstrate a tremendous amount of respect for teachers and is reciprocated to our families. And I believe this happens more naturally in Columbus in part because students have access to educators with similar cultures and backgrounds as they do.
I have come to realize how important this is. It makes an enormous difference to my students to have a teacher to whom they can truly relate. Everything makes a difference, from the way we look and dress to the intonation in our voices, to the culture, music, food, and in some cases religion that we share. Students of color need to see more people of color in a variety of positions, including education.
This year, I am a fellow with Teach Plus New Mexico, and my main area of focus, with a group of other fellows, is enhancing systems around recruitment and retention that will help diversify the teacher workforce so that teachers in New Mexico more closely mirror the student population. Research has indicated that all students benefit from a diverse educator workforce.
There needs to be more alternative pathways to becoming a teacher, so that more people from my background can be leading classrooms. If we can make that happen, we will begin to see student achievement increase significantly.