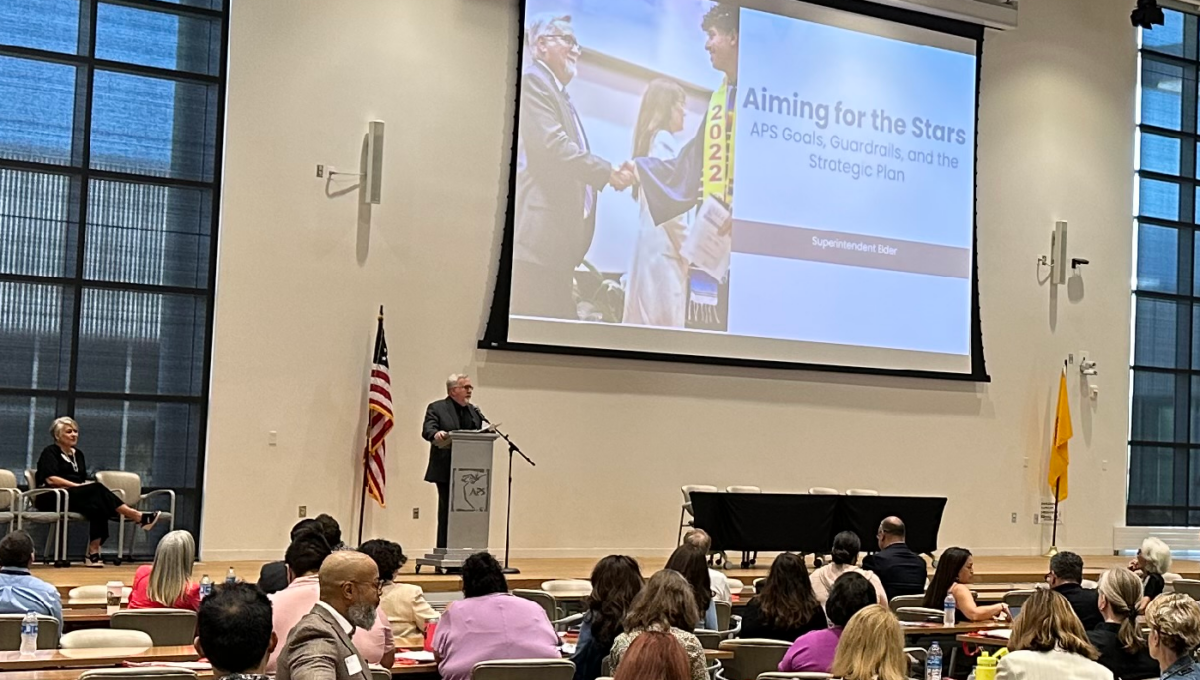 After nearly a year of work developing a plan to enhance student outcomes and foster community involvement, Albuquerque Public Schools unveiled a comprehensive strategic plan during two days of events on August 28 and 29. The comprehensive strategic plan sets four key goals, marking the very first time the board of education and administration have worked together to create specific, measurable goals for schools to achieve.
Events were held to mark the beginning of APS' five-year "Emerging Better" strategic plan and celebrate what APS hopes will lead to growth in student achievement.
APS board President Yolanda Montoya Cordova said the plan holds adults accountable for improving student outcomes. She said this strategy places an emphasis on aligning resources, providing rigorous instruction, and fostering a warm and welcoming environment for students.
Since APS began discussions about creating a system that would see real results, the board has hung a banner in its meeting room that reflects her statement, reading, "Student Outcomes Don't Change Until Adult Behavior Changes."
Four Key Goals
At the core of the strategic plan are four key goals that were developed with input from the community. According to board members and APS staff, the goals are designed to improve student outcomes, particularly among marginalized student groups and the student groups identified in the Yazzie-Martinez lawsuit, which was decided five years ago.
Goal One – Reading: APS seeks to significantly improve the percentage of third-grade students identified in the Yazzie-Martinez decision, and African American students, who achieve grade-level proficiency or beyond on the state English Language Arts annual assessment. The district aims to achieve a 10-percentage-point increase by 2028. Data from the 2021-2022 school year at APS shows only 32.6 percent of APS third grade students are proficient in reading.
Goal Two – Mathematics: The "mathematics" goal is centered on improving proficiency in mathematics among eighth-grade students identified in the Yazzie-Martinez decision and African American students. APS intends to raise the percentage of these students who attain grade-level proficiency or above on the state mathematics assessment by at least 10 percentage points by 2028. According to APS' data, only 19.6 percent of eighth grade students at APS are proficient in mathematics.
Goal Three – Post Secondary Readiness: To bolster post-secondary readiness, APS is committing itself to equipping high school graduates with the tools for success. The district aims to increase the percentage of graduates who earn credits in two or more Advanced Placement, International Baccalaureate, or dual credit courses, or achieve industry certifications or the Bilingual Seal by 2028.
Goal Four – Skills, Habits, and Mindsets: This goal seeks to elevate the percentage of students who demonstrate attributes crucial for lifelong success, including perseverance, self-regulation, self-efficacy, and social awareness.
These goals are the results of partnership between the board of education and the APS administration. This is the first time the bodies have partnered to create clear, measurable goals for their schools to achieve.
During breakout sessions to discuss the plan and goals during the community summit, some advocates and families argued that the goals do not go far enough to address all of New Mexico's student populations, such as the Latino and Asian communities. In response, Montoya Cordova said that the spirit of these goals is to affect every student, and that the intention of these goals is to address those students listed in the Yazzie/Martinez decision. She said, regardless of the student group, all students will be monitored on a regular basis by APS teachers, administrators, and the board of education.
A Community Conversation
Events began on August 28 with a community dinner held at Albuquerque High School. The event included performances from the school's mariachi group and marching bands. Because the AHS event was held at 5 p.m., APS served dinner for attendees. The board and Superintendent Scott Elder presented an overview of the plan and presented a video made for parents and families. Portions of the event were presented in Spanish, though the event was held primarily in English. Translation services were available for all attendees.
On Tuesday, August 29, APS hosted a community summit at the Berna Facio Professional Development Center. The event included an overview of the plan, a student panel and small group discussions with board members.
The student panel included four students from APS' Superintendent's Student Advisory Council who shared their experiences as APS students. Through their responses, the students thanked the district for its commitment to bilingual education and the chance to earn a bilingual seal on their diplomas,emphasized rigorous instruction and diverse learning opportunities, and highlighted the need for better mental health support and a stronger student voice in their education.
Throughout the event, APS board members and administrative staff engaged in dialogue with attendees, who ranged from education advocates to state legislators and local citizens. Attendees were encouraged to provide feedback on the strategic plan, express concerns, and offer suggestions for improvements by APS staff.
Every attendee was given a blue card to fill out as a way to share with the APS board what they expect to see in their next superintendent. Elder will be stepping down from the role at the end of 2023-2024 school year.
During conversations with the community, APS leadership emphasized the importance of collaboration and transparency – not only with the community, but within the district, further highlighting their message that student outcomes will only change when adult behaviors change.
Looking Ahead
Montoya Cordova said that APS has a lot of work to do. "We need someone who is an implementer," she said, discussing the hiring of the district's next superintendent. Not only is Elder leaving his position, but the board will be losing at least two of its members who chose not to run for re-election. Three board seats are up for election this year.
With the major changes coming to APS, Montoya Cordova said the board has already taken steps to ensure accountability from the whole board, including new members. "We have a plan in place now, we need someone who is going to implement it," she said.
Monotoya Cordova said APS will be doing a monthly review of student proficiency results to monitor progress, and that the board is required to perform quarterly performance reviews on student data to keep the district in line with its goals and plans.
"We all have a role to play in accountability," she said. She asked that parents attend APS board meetings and all of the community engagement events the board is planning to hold.
Before the meeting adjourned, board members told parents that this strategic plan is only the beginning of the work that will take years to bear fruit. They said that more community meetings will be held to give the public an opportunity to be involved in their school district and have a deeper understanding of the work being done in the schools.
As APS moves forward with its plan, Montoya Cordova said, the district seeks to create an education system that not only meets the needs of its diverse student body but also provides the necessary resources and support to prepare them for successful futures.