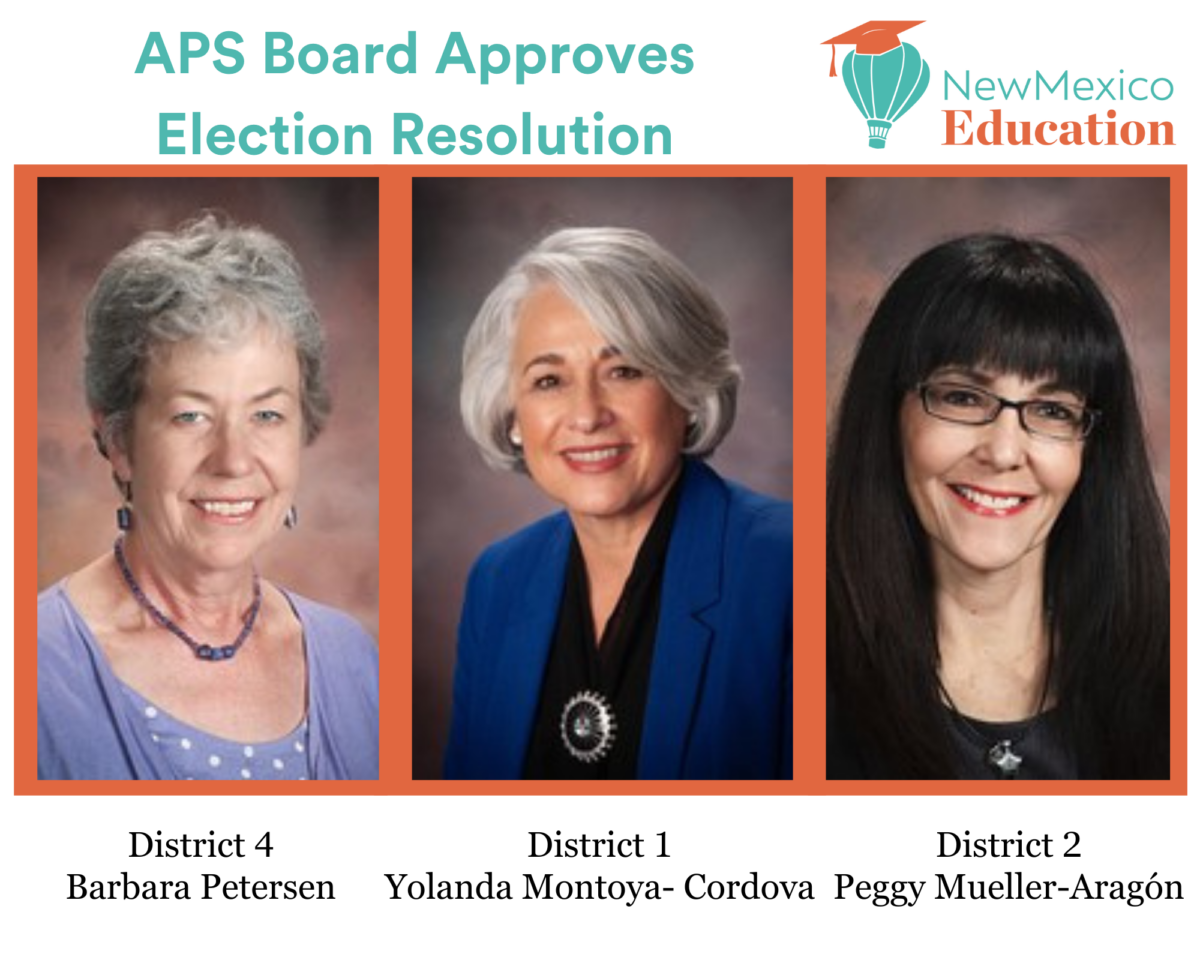 The Albuquerque Public School Board of Education voted to approve a resolution announcing the next board election, with news that two current board members will not seek reelection.
Board election
The board approved an election resolution, complying with state law and creating an opportunity for members of the community to choose new leadership for the APS Board of Education. Two board members will not run for reelection, meaning there will be at least two new board members in 2024. The election will also allow voters to decide whether or not they would like to approve an extension of the capital improvement tax that helps pay for student equipment, building maintenance, and improvements for the district.
This election will take place on Tuesday, November 7.
Three board members will be up for re-election, setting the stage for challengers to vie for their positions. Three districts will be re-electing their representative to the school district: District 1, currently held by APS Board President Yolanda Montoya-Cordova; District 2, currently held by APS Board Vice President Peggy Mueller-Aragon; District 4, which is currently held by Instruction and Accountability Committee Chair Barbara Petersen.
During the meeting, Superintendent Scott Elder said Montoya-Cordova and Petersen will not be running for reelection. Mueller-Aragón intends to run for her third term.
Albuquerque residents interested in running for the school board are required to announce their candidacy at the Bernalillo County Clerk's Office on August 29, between 9 a.m. and 5 p.m.
Capital Improvement
Currently, APS uses mill levy funding to support their school improvements and purchase materials used by students. Mill levies generate money that comes from county property tax payments, APS takes $2 for every $1,000 of taxable property. Approval of mill levies does not increase taxes.
The Board of Education worries that the district will not have the resources students need to succeed without extending the mill levy.
Because of state law, APS needed to pass the resolution at the June 7 meeting. With the resolution, APS can get their mill levy extension on the ballot.-
If the mill levy is not approved by voters, APS will have to work quickly to get the resolution on a February ballot or face a lapse in funding come 2025.
In a unanimous vote, the Board of Education approved the election resolution. Voters will elect new board members and decide whether to extend the mill levy on November 7.
At the conclusion of the June 7 meeting, the APS Board of Education read a statement, announcing Superintendent Scott Elder's contract with the district will not be renewed.