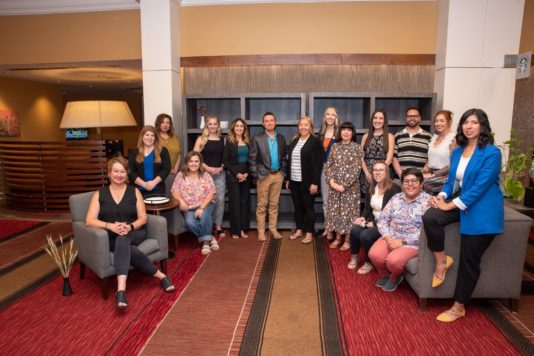 Teach Plus New Mexico, a local education-focused organization, has announced the next group of participants of its New Mexico Policy Fellowship, an initiative designed to empower exceptional educators to take a leading role in shaping education policy and advocacy within the state.
The fellowship program kicked off on September 11 and offers an opportunity for New Mexico's teachers to expand their influence in the realm of education policy without leaving the classroom.No prior policy experience is required, welcoming both seasoned and novice educators.
Teach Plus takes a multifaceted approach to training. Fellows embark on a journey that includes understanding the intricacies of education policy as a catalyst for student success, mastering community organizing, honing their skills in crafting persuasive op-eds, effectively addressing the media, and guiding public discussion about education.
According to a press release, the program delves into research, encouraging fellows to engage in the inquiry process. Participants employ methodologies such as surveys and focus groups and collaborate with their peers in fellowship working groups to develop research-based recommendations for policy changes.
Teach Plus Policy Fellows are encouraged to author policy memos and briefs that spotlight their research-backed proposals. These recommendations are then shared with decision-makers and the public through means such as testimonies, meetings with policymakers, op-eds, and advocacy campaigns. The overarching goal is to enact changes in laws and policies at the school, district, state, and federal levels to enhance equity and opportunities for students. Through the efforts of the fellows, they will put all the skills they are developing to use.
According to their press release, the Teach Plus Policy Fellowship in New Mexico is part of a broader mission to create and connect teachers to leadership opportunities in education policy. The work of Teach Plus aims to mobilize educators to address critical issues affecting the teaching profession within the state.
The 2023-2024 Teach Plus Alumni Policy Fellows are:
Gabrielle Begay, Jose Barrios Elementary, Silver City
Dawn Bilbrey, San Jon High School, San Jon
Julia Burrola, Albuquerque Collegiate Charter School, Albuquerque
Alisa Cooper de Uribe( 2021 New Mexico Teacher of the Year), New Mexico International School, Albuquerque
Aja Currey, Rio Gallinas School for Ecology and the Arts, Las Vegas
Chelsea Granillo, Vista Grande Elementary School, Rio Rancho
Jaycie Homer, Sixth Grade Academy, Lovington
Andrea Kiesling, Alvis Elementary, Clayton
Joe Dan Lovato, Turquoise Charter School, Santa Fe
Tennise Lucas, Solare Collegiate Charter School, Albuquerque
Kelsey McCaffrey, Albuquerque Collegiate Charter School, Albuquerque
Gigette Nieto, Rio Rancho Middle School, Rio Rancho
Sonny Sapien, Albuquerque Collegiate Charter School, Albuquerque
Chrissie Souders, G.W. Stout Elementary, Silver City
Andie Sowden, Holloman Elementary, Holloman AFB
Robin Stevens, Highland Middle School, Hobbs