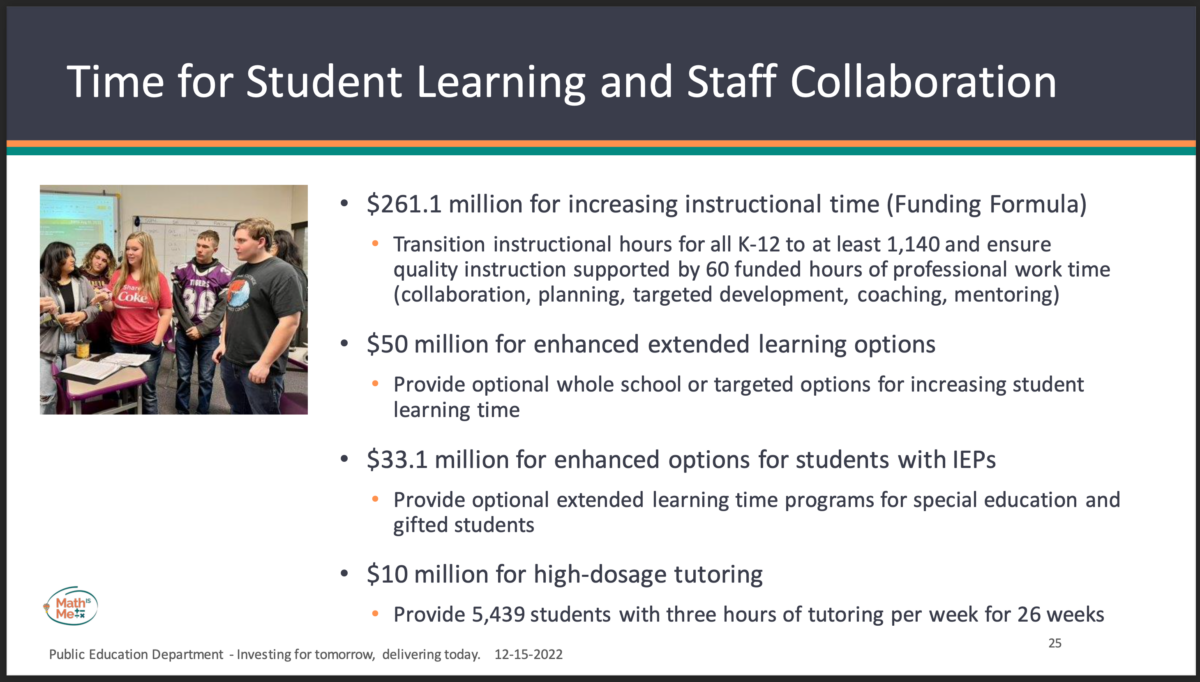 The proposed $4.1 billion Public Education Department 2023 budget for support to New Mexico's schools presented to lawmakers Thursday would boost spending by $241 million – or 6.3 percent – over this year.
Despite New Mexico's ongoing struggles with student learning – the state ranked dead last this year on national assessments – members of the Legislative Finance Committee asked no tough or probing questions of Secretary of Education Kurt Steinhaus during a 90-minute hearing.
The most significant and costly new item in the budget is a mandatory increase in instructional hours statewide from 990 to 1,140 per year – requiring an additional $261.1 million. This would be largely offset by eliminating funding for the existing Extended Learning Time and K-5 Plus programs that added days and hours but were underutilized by districts.
The proposal also calls for an additional $50 million of optional "enhanced extended learning options, for those who want to continue their participation in K5+ or other extended learning time that would exceed the new hourly requirement.
Thursday's hearing is just the first step toward a final K-12 education budget – which comprises 45 percent of the state budget. The governor's office also presents a budget, as does the Legislative Education Study Committee and the Legislative Finance Committee. The various proposals are debated and the final budget is set during the legislative session.
A budget spreadsheet distributed to LFC members Thursday was a bit challenging to decipher, with multiple categories and subtotals making it hard to get a grasp on total amounts and increases.
Other notable items in the proposed budget include:
$109.3 million for 4 percent raises across the board. Steinhaus said the state needs to fill 600 teaching vacancies, keep up with cost-of-living increases, and remain regionally competitive.
More than doubling to $15.3 million in the cost of statewide standardized assessments, from the current year's $7.2 million. Steinhaus said the proposed amount reflects actual costs. "(PED) got in the habit of getting federal money here, sweeping the corners over there and just pulling a bunch of stuff together. And that's not the way to run a railroad," he said. "You need to be upfront with your finance committee about what the real cost is. And that's what the real cost is."
$16.5 million for early literacy and reading support. This includes additional training in the science of reading as well as new regional literacy coaches.
$17 million to boost attendance programs and dropout prevention
$11.5 million to expand community schools, an area where the budget has grown substantially over the past several years.
$10 million for high-dosage tutoring, an intervention that has proved effective across the country in helping ameliorate Covid-19 related learning loss. The PED proposal says funds would provide 5,439 students with three hours of tutoring per week for 26 weeks.
$3.3 million to increase minimum principal salaries. This would boost the minimum salary by $3,500 dollars and would affect 64 percent of the state's principals.
In addition to $3.9 billion in public school support, Steinhaus also asked legislators for a 17 percent increase in the PED budget for its internal operations – from $20.9 million to $24.3 million.
Steinhaus said the department needs more money to implement state statutes and federal requirements; Address the Martinez/Yazzie case and other court rulings; support equity, language and culture; analyze data and communicate results; and "reduce administrative complexity."
State Sen. William Burt, an Alamogordo Republican, expressed the only mild dissent to the budget proposal. "How often do you evaluate the programs within PED and either cut them back or shift the money to maybe a better way (of doing things)? Burt asked Steinhaus. "So that we can be using the taxpayer dollars more efficiently and getting better results out of that money."
Steinhaus replied that the evaluation process is "continuous" within the department, and that all programs are viewed through the lens of whether they are improving student achievement, graduation rates, and attendance.
"If (a program) is not working, it didn't show up here in this package,"Steinhaus said.