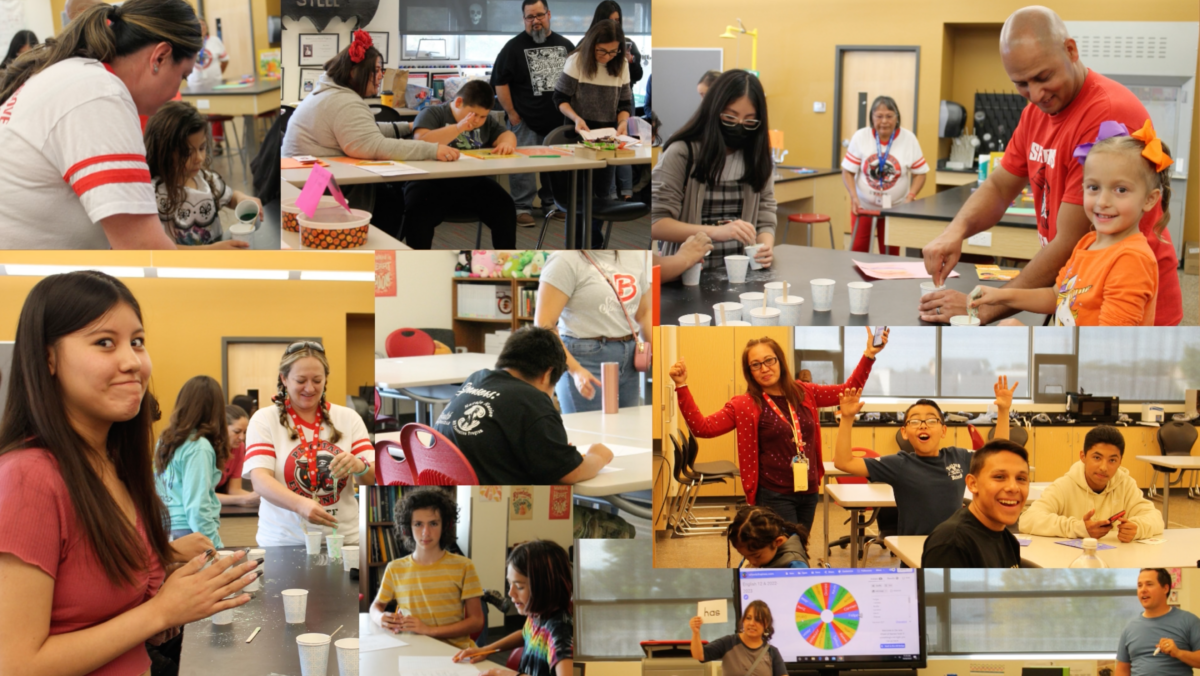 Editor's note:  Bernalillo Public Schools is making creative use of the state-funded Extended Learning Time Program. Under the program, districts can opt into receiving funding to extend the school year by 10 days. In Bernalillo, the district has opted for a modified approach. For 2022-23, the school year is being extended by five days. The additional five days will be used for parent and community engagement, holding community events on Saturdays and evenings to help parents learn more about what the schools are hoping to accomplish with their children, and how parents can work at home with their children to boost their learning.
New Mexico Education interviewed Bernalillo Superintendent Matt Montaño to learn more about the district's unique approach to Extended Learning Time.
New Mexico Education: How did you come up with the idea for what you call community learning?
Superintendent Matt Montaño: For the first time during COVID, families got to see behind the curtain of the classroom in real time, because their kids were in class, and you had a teacher on the other side, doing some instruction or providing some type of assignment and the parents were there with their kids watching whatever was happening – good, bad, or in the middle.
My premise was that now that they have some kind of inclination of what's happening in the classroom, have we done our part as an education system to really engage them in and inform them about what we're trying to accomplish? Parents entrust their kids to us, but we never clearly, as an educational system, let them know what we're trying to do.
Even when you think about traditional parent-teacher conferences or open houses, they're kind of check-the-box events. Parents come in, they ask questions: How's my kid behaving? We want to go beyond that.
Now that we opened up the classroom during COVID, let's really open up the schools. Instead of us thinking of parents as just the parents of our students, let's think of them as our partners in their students' education.
NME: So how does this new approach look in Bernalillo?
Montaño: We added five additional days to the end of our calendar. We added another five days on Saturdays throughout the school year. Those Saturdays are specifically to do what we're calling community learning.
The idea is that we engage families in the arts, in music, in games, and things of that nature, while we're simultaneously engaging them and their kids in learning that's occurring in the classroom. We're teaching them techniques for working at home on learning with their kids. We're talking to them about what we're trying to accomplish with some of these techniques. And so all of a sudden, you've combined a carnival atmosphere with the classroom atmosphere, and it has really yielded results.
We had our first community learning event on September 10. Each of our 10 schools held events at their schools. It was very successful, and about 1,200 people participated.
Our second Saturday was October 22. We decided to have parents and students from all 10 of our schools come to Bernalillo High School. We provided buses for free to get people there. Each school adopted three classrooms where they held learning events. So there were 30 classrooms for our parents and our students to go through.
We also had a harvest festival tied to it. We gave out free food. We had vendors come in- the vendors that provide us nutrition services. They gave food tasting opportunities so that families could give feedback on the types of foods that they would like their kids to get for school lunch.
More than 3,000 people showed up, which is an amazing turnout. We had kids who brought parents, uncles, aunts, grandma, grandpa. There were people from the community who don't even have kids in the school system anymore. They came in and said hey, we want to be a part of this. And that was really powerful for us because now it has created unique partnerships that we can tap into for providing tutoring services.
So it was also about saying hey, education is not just a school issue. It's a community issue and community involvement is extremely important for schools to thrive.
NME: Can you describe in more detail what some of the in-classroom and out-of-classroom offerings were that day?
Montaño: In some classrooms we had live literacy instruction, where teachers were leading instruction and parents and students had an opportunity to work together. The parents got insight into what the instruction in our schools looks like and how they can better support their students at home. Other classrooms had similar instruction going on in math.
On the non-academic side, we really wanted to tap into the cultural strengths and assets of our community; the languages, the cultural assets. So in addition to the harvest festival we had a low-rider exhibition. People like beautiful cars and that's part of our community. We can have high, rigorous academic expectations and outcomes and this cultural component as well.
We had agricultural exhibitions because that is also an important part of our community.
NME: What will the rest of the ELTP events look like?
Montaño: Most of them will probably be back at individual school sites. One piece of feedback I received from families was that their weekends are busy with soccer, youth sports leagues, and other family obligations. So we are looking at probably moving some of these events to weekday evenings. The harvest festival was such a success I think we will make that an annual event.
NME: What else have you and your district learned from this experience?
Montaño: We often think of innovation as technology. I think of innovation as, for example, looking at our schedules differently. Our education systems still largely haven't changed since the 1950s. How do we look to restructure how our days look, how our weeks look, who participates in the educational process now and moving forward? That is actually going to be the game-changing element.
We've got to keep our eyes on high standards. We've got to keep our eyes on proficiency and getting kids to achieve at high levels. How we get there doesn't have to look cookie-cutter. That's the key to what we're trying to accomplish.