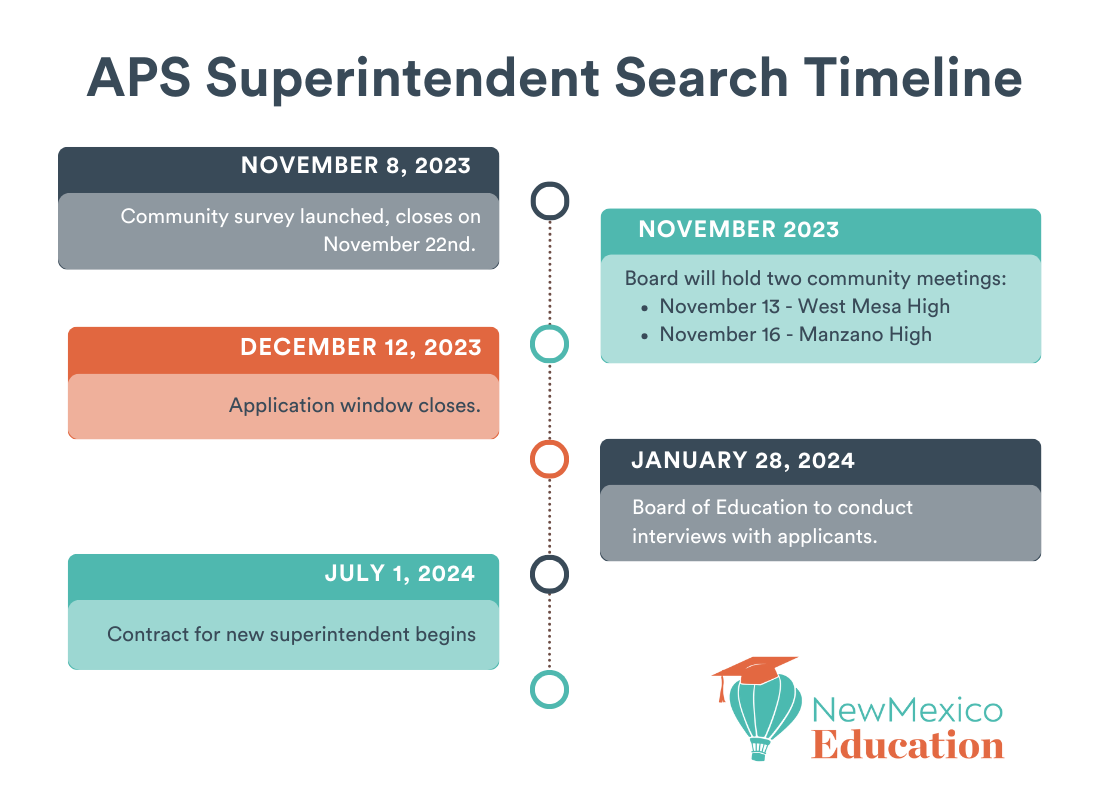 The Albuquerque Public Schools (APS) Board of Education has scheduled two community meetings to learn which qualities the community would like to see in the district's next leader. The district is in the beginning stages of the search for a new superintendent who will guide the district into the future, following the announcement that Superintendent Scott Elder's contract will not be renewed when it expires on June 30, 2024.
To ensure a comprehensive and community-driven selection process, APS has enlisted McPherson & Jacobson, L.L.C., Executive Recruitment and Development, as their consulting partner.
Expected Qualifications
According to the posted hiring notice, the Board of Education's vision for the ideal candidate is someone who has several key attributes:
Commitment to Equity and Anti-Racism: The candidate should firmly believe in the capacity of every child to learn and demonstrate a commitment to principles of equity and anti-racism.
Data-Driven Change Agent: A proven track record of prioritizing student needs and significantly improving student outcomes through data-driven decision-making is essential.
Respect for Local Culture: The candidate should show respect for New Mexico's unique culture and the APS workforce while inspiring respect from others.
Effective Communication and Collaboration: Effective communication skills and a collaborative approach to team-building are highly valued.
Goal-Oriented: The candidate should be goal-oriented and committed to implementing the Board's goals, guardrails, and the APS Strategic Plan.
Understanding of Legal Requirements: Familiarity with and advocacy for the requirements of the New Mexico Martinez/Yazzie Consolidated Lawsuit are considered important.
According to the hiring notice, bilingual proficiency is preferred, and candidates must possess or be eligible for appropriate New Mexico licensure.
The Superintendent's salary range is between $245,000 and $325,000, subject to negotiation.
The search process will follow this timeline:
Closing date for applications: December 12, 2023
Board of Education selects candidates to interview: January 8, 2024
Interviews with the Board of Education: To be determined.
Selection of the new Superintendent: To be announced.
Start date: As mutually agreed upon, but no later than July 1, 2024.
Community Engagement
Community engagement is a critical component of the selection process, with APS actively seeking input from families, employees, and other community members. This step is especially crucial as candidates for the superintendent position will be selected in early January.
An online survey launched on November 8, and will run until November 22, 2023. This survey will allow community members to voice their opinions on the qualities and characteristics they desire in the next APS superintendent.
In addition to the survey, APS is organizing two community conversation meetings in November. The two meets will be held on:
Monday, November 13, 2023, at West Mesa High School from 6 to 8 p.m., 6701 Fortuna Rd NW.
Thursday, November 16, 2023, at Manzano High School, from 6 to 8 p.m., 12200 Lomas Blvd NE.
During these meetings, APS Board members will share information about their goals, guardrails, and the strategic plan, while also engaging with the community to understand local expectations for the next Superintendent.