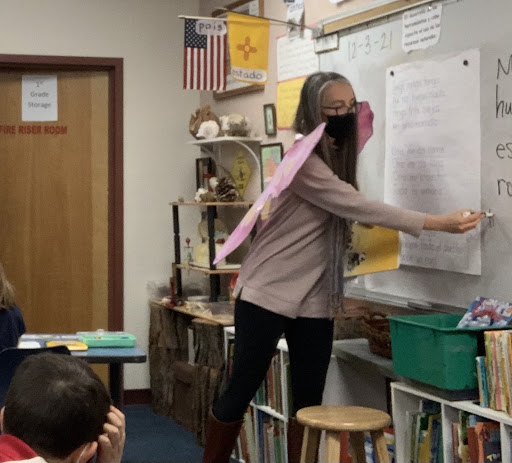 Editor's note: Alisa Cooper de Uribe was New Mexico's Teacher of the Year for 2021. Anyone who spends a few minutes with Cooper de Uribe, who was raised in Raton, can feel the passion and intelligence she brings to her work. A first-grade teacher for the past decade at the charter K-7 New Mexico International School in Albuquerque, Cooper de Uribe is deeply committed to bilingual education. She is also an outspoken advocate for diversifying the teacher workforce, and substantially increasing teacher pay as a means of attracting more diverse candidates to the profession.
As she concluded her 12 months as teacher of the year, New Mexico Education spoke with Cooper de Uribe about her background and experiences that shaped her approach to teaching, as well as her advocacy work on behalf of bilingual education and a more diverse teaching corps.
This interview has been edited for length and clarity.
New Mexico Education: Please tell us a bit about your background and how you came to the teaching profession and bilingual education.
Alisa Cooper de Uribe: I grew up in Raton and went through the Raton Public Schools system from kindergarten through high school. I left New Mexico to attend Abilene Christian University in Texas. Literature was my passion, and I decided getting an English degree would equip me with skills that I could use in whatever I decided to pursue in graduate school. I also minored in Spanish.
Growing up in Raton, I lamented the fact that I was a monolingual speaker, especially seeing the really rich cultural backgrounds of a lot of my friends. Raton, having been a coal mining town, was extremely diverse. I had friends whose grandparents were from Montenegro, whose grandparents spoke Italian, whose grandparents spoke Greek. And so many friends of mine whose parents and grandparents spoke Spanish. Being in New Mexico, I felt this yearning to be a part of the Spanish language.
So when I started my college studies at the undergraduate level, I just dove into Spanish because it was a lifelong goal for me to finally be at least bilingual if not multilingual. And after I graduated, l moved to New York City for five years, and enrolled in a summer graduate language program at Middlebury College in Vermont. For four summers, I worked toward and got my Master's Degree in Spanish. For my first couple of years in New York I worked at the Metropolitan Opera in human resources.
NME: How did you first get into education?
Cooper de Uribe: (After the opera) I got a job as an assistant teacher at the Buckley School on the Upper East Side of Manhattan. Then I moved to the school's elementary library, ran the library for a couple of years, and eventually became a third-grade teacher at the school. I spent four years at Buckley. I also tutored students in New York City in Spanish.
NME: Buckley is a very high-end, exclusive, expensive private school. How did working there influence your views on educational equity?
Cooper de Uribe: Well, that community was amazing in terms of collegiality, and even though I am 100% a public school teacher, it was fascinating and eye-opening to see what's possible with the resources at a school like that. It was a phenomenal experience. So I learned a lot there for sure.
As far as equity goes, Buckley was so different from Raton. In Raton, teachers wore multiple, multiple hats and the opportunities that were afforded us were made possible by the legwork of teachers, students and parents putting in innumerable hours of work to fundraise. The Buckley experience made me appreciate that the opportunities we had in our small town were only possible because there were people who were able to make it happen with a lot of blood, sweat and tears.
There were so many things that were available at Buckley, especially extracurriculars, that I did not have access to as a public school student in a really small district. I had some extraordinary teachers, but just thinking about the resources that they could have had with more funding for public schools, it definitely opened my eyes to the inequities that exist between public and private institutions, but then also among public schools as well.
At Buckley, I just heard the word yes all of the time. Any idea that we had, yes would be the answer. There was never a 'well, let's see what we need to do to fund that.' There were no caveats. It was basically what's your idea? And the answer was yes. It was a teacher's dream in a lot of ways. But in the back of one's mind, you're thinking how much you would like for all kids to have access to so many yeses.
Cooper de Uribe fell in love with and married a Mexican national and lived near Mexico City for four years after leaving New York. She worked a variety of jobs in Mexico. Eventually, she and her husband decided to move back to New Mexico to be closer to her family. For her first three years in New Mexico, she worked as a paralegal focused on immigration law. Then she gave birth to a daughter, and during the year she took off from work, decided to pursue becoming a licensed public school teacher. She enrolled in an alternative, online licensure program through Eastern New Mexico University.
NME: How did you end up working at the New Mexico International School?
Cooper de Uribe: My husband was working as an educational assistant there. And so I reached out to the director and said that I would love to do my practicum work at the school, since it is a language immersion school and my focus was on bilingual education. I was able to do my practicum in a first grade and second grade classroom for a semester and work under two different bilingual teachers. I applied for a position after six months of my alternative licensure program and started teaching first grade when my daughter was a year old. I have been there ever since and I love it.
NME: How did you choose to focus on bilingual education?
Cooper de Uribe: As I mentioned earlier, I had this deep sense that multilingualism is a gift that all of us should have and one that I didn't have when I was a kid. Fast forward way into the future. After having married my husband and then having our daughter. We did a lot of soul searching about what kind of language environment we wanted for our daughter, because she has dual citizenship and we really wanted her to have the opportunity to feel as fully bicultural as possible. And bilingualism was imperative in that. Professionally, there was no question in my mind that where I wanted to go was bilingual education.
NME: You've been a Teach Plus Fellow in New Mexico this year, and have focused on diversifying the teacher pipeline. Can you tell us a bit about that work?
Cooper de Uribe: I've seen firsthand how challenging it is to find qualified and certified bilingual teachers and that's just one tiny area of diversity if we're talking about a diverse teacher pipeline. There's plenty of folks who speak Spanish, but finding folks who speak Spanish who then also want to go into education and then who also have the means timewise and financially to take the courses and the exams to have the necessary licensure, and then to be able to sustain the immense amount of work that it takes to work in a dual language school. It's a lot!
NME: What are your strategies for effectively diversifying the teacher pipeline?
Cooper de Uribe: One of the things we have been focusing on is teacher pay. (Editor's note: Proposed budgets from the Public Education Department and the Legislative Finance Committee request over $200 million in new money to boost teacher pay). We've seen that diversity in the teacher workforce is sometimes influenced by factors that could be ameliorated with higher teacher salaries. We've been looking at different buckets of how we could focus on promoting teacher salary increases, as a way not only to increase the chances of having a more sustainable future workforce, through recruitment and retention, but a more diverse teacher workforce.
Having an increase in all levels of salary would definitely make it more accessible to more people who want to go into teaching. Some of it has to do with making the pay for work that teachers do commensurate with the work of other service-oriented professions, such as nursing. The hours and the intensity of the work can be kind of similar and yet there's a $20,000 average pay difference between teachers in New Mexico and nurses in New Mexico.