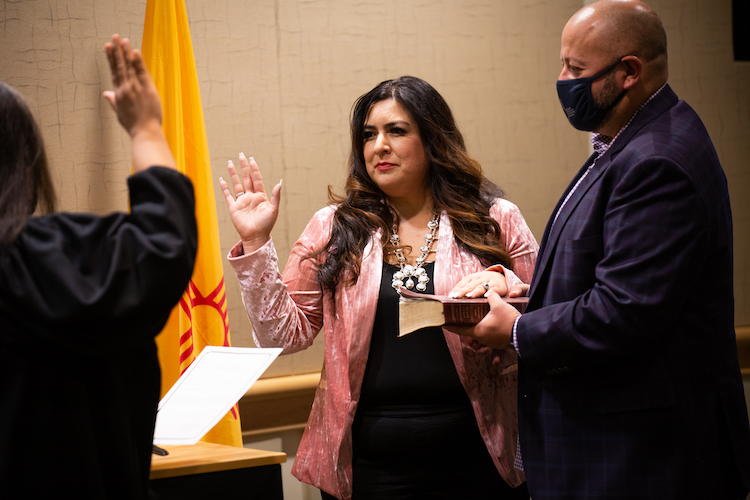 Pledging to establish a collaborative working relationship, the reconfigured Albuquerque Public Schools board swore in four new members Jan. 5 and elected a slate of officers representing a mix of old and new members and differing philosophies.
The board also decided not to assign members to committees, but rather to hold a retreat in the next few weeks to rethink committees and their composition, among other issues.
Incumbent Yolanda Montoya-Cordova will serve as the board president for the next year. Peggy Muller-Aragon, also an incumbent, will serve as vice president, and newly elected member Courtney Jackson will be secretary.
The three officers represent an acknowledgement that the composition of the board has changed, and that a majority of the seven-member board favors heightened accountability and fundamental changes to the district's operational direction and philosophy.
While Montoya-Cordova has been more aligned with the former board majority, supportive of the district's overall direction, Muller-Aragon has frequently lined up on the other side of issues. And Jackson ran on a platform of pushing for fundamental changes.
While all three officers were elected unanimously, new board member Josefina Dominguez nominated veteran board member Barbara Petersen as an alternative to Jackson. Petersen, however, declined to accept the nomination.
Petersen said that while having her serve as secretary would provide "beneficial stability," she wanted to support the spirit of solving problems collaboratively.
The message of unity and collaboration was echoed by all seven board members. Jackson said that voters sent a clear message that they want significant change, and that it is "very important that we balance the executive committee with ideologies and reflect what our community asked for during this election. Collaboration is something we will focus on."