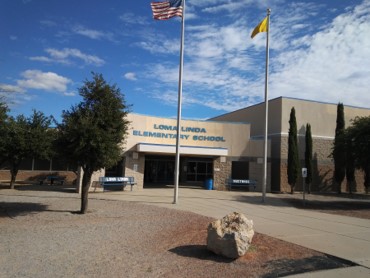 Loma Linda Elementary School, a small school tucked near the Texas border within the scenic landscape of Anthony, New Mexico, that has a high population of students in poverty, has been making waves in the education community for its dedication to innovation and student success. Thanks to the leadership of administrators and passionate educators, Loma Linda has been honored by Teach Plus New Mexico as an innovative school.
Loma Linda serves approximately 300 students from kindergarten to 6th grade and is part of the Gadsden Independent School District, situated between Las Cruces, NM, and El Paso, TX. The school takes pride in its identity as a dual language school for grades K-2 and a bilingual transitional school for grades 3-6, fostering cultural awareness and promoting linguistic proficiency. Vice Principal Eliana Muñoz said that Loma Linda places an emphasis on respecting language, from ensuring every document is written in at least English and Spanish, to tracking a student's proficiency in reading while considering the student's proficiency in their native tongue. This is done to put a special emphasis on equity at the school.
According to Muñoz, the heart of Loma Linda's success lies in its core values, which guide every aspect of the school's mission. The institution ensures a safe and supportive environment, facilitates collaborative professional opportunities for staff, and emphasizes high-quality and research-based curricula to provide students with enriching learning experiences. Additionally, the school utilizes standards-based grading to offer appropriate interventions through its innovative reteach and enrich initiative.
"Reteach and Enrich" has emerged as a transformative instructional strategy at Loma Linda Elementary. The model involves strategically placing students into groups based on their collaborative understanding of the standards taught each week. This approach empowers teachers to deliver targeted, data-driven instruction, measure student growth, and develop intentional interventions and enrichment opportunities for all students.
Muñoz, along with educators like Diana Arenas, 1st Grade Bilingual Teacher, and Jaylynn Melendez, 2nd Grade English Teacher, has been instrumental in implementing the Reteach and Enrich initiative at Loma Linda. All three said they are finding that students are more successful under this model.
Every Wednesday, the school dedicates half of the day to math and language arts standards, providing time for reteach and enrichment activities. These groups are assigned among grade-level teachers and available staff members, allowing for targeted support based on assessment data.
The "Reteach" groups provide focused interventions to students who did not meet the standard, employing research-proven instructional strategies to bridge learning gaps. Meanwhile, the "Enrich" groups offer challenging and advanced instruction to students who have already mastered the grade-level standard, promoting academic growth and engagement.
"It takes everyone! Monitoring both PLC and Reteach and Enrich and celebrating achievements are vital to the success of this model," said Assistant Principal Munoz.
The school's dedication to data-driven instruction and collaborative planning has fostered a culture of continuous learning and growth, creating a structured system that benefits students throughout the year. The program has been in place at Loma Linda for one year, with teachers happy about the progress their students have made since the Reteach and Enrich began.
In order to provide individualized support for students schoolwide, Loma Linda Elementary has established a comprehensive set of practices and systems. These include aligning teacher professional development, assessments, and instructional resources directly to standards, facilitating data-driven conversations during teacher preparation time, and developing school schedules that allow for schoolwide small group instruction related to reteach and enrich each week.
Loma Linda Elementary's commitment to innovation, personalized learning, and fostering a supportive learning environment has earned the school recognition from Teach Plus New Mexico. At a conference honoring innovative schools, Hope Morales, Executive Director of Teach Plus, said the Mustangs of Loma Linda are setting a precedent for transformative education that meets the needs of every student.