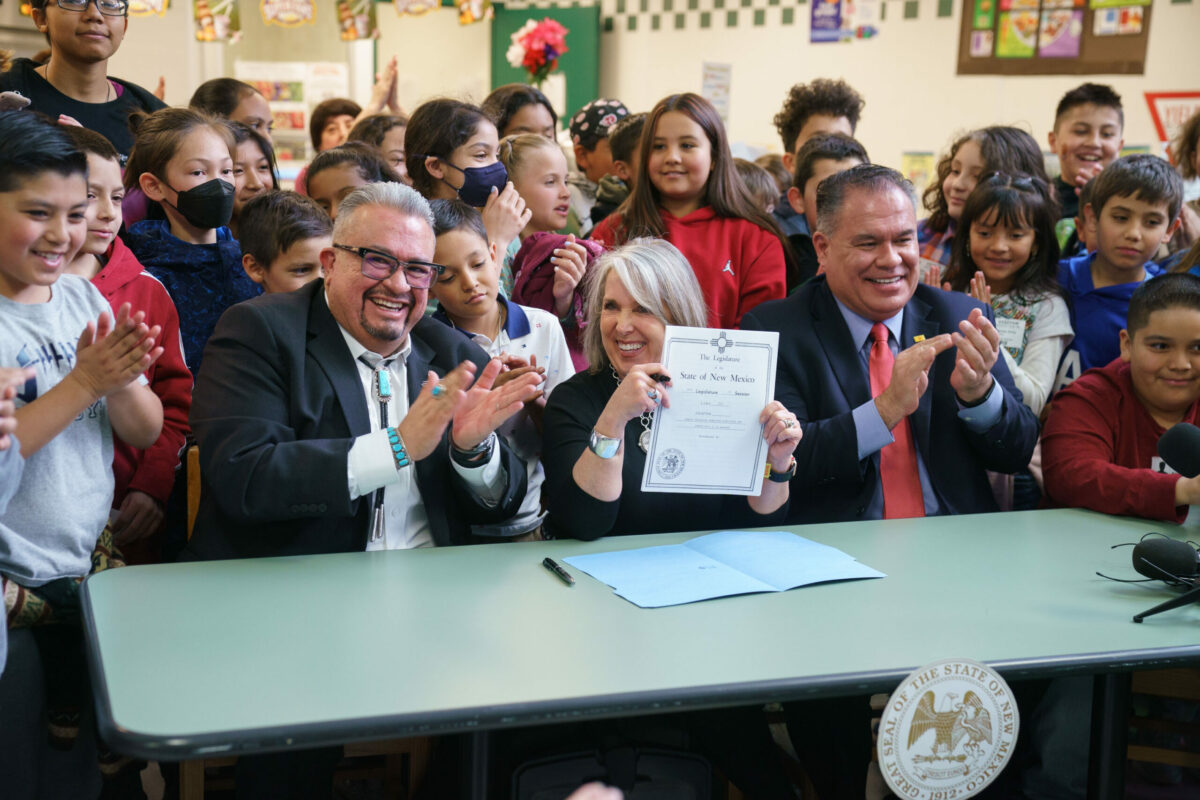 Students across New Mexico will soon enjoy free lunch regardless of their family's ability to pay, under a new law passed during this year's legislative session and signed into law March 28.
The program makes New Mexico the fifth state in the nation to guarantee free lunches for its students, but is the only state that requires the meals be nutritious.
Under Senate Bill 4, sponsored by Senate Majority Whip Michael Padilla (D – Bernalillo) and Sen. Leo Jaramillo (D – Los Alamos, Rio Arriba, Sandoval, Santa Fe), free student breakfast and lunch will begin in the 2023-2024 school year for all students.
"New Mexico is leading the nation by not only providing free healthy school meals to every student in our state, but we're also making sure those meals are nutritious foods that kids want to eat," said New Mexico Governor Michelle Lujan Grisham. "When we feed our children, we're feeding our future – these investments today will yield benefits tomorrow through generations of healthier New Mexicans."
The program makes school breakfast and lunch free for all students, regardless of family socioeconomic status. SB 4 sets aside $30 million from the state budget to cover the cost of the free meals.
The new law also sets aside $20 million to improve school kitchens, giving school staff a better opportunity to make healthy food from scratch. Over the summer of 2023, a rulemaking committee will decide what constitutes a healthy meal, according to the governor's office. School districts will be given time to prepare for the new nutrition rules, which will not take effect for school districts until 2025.
"Healthy meals in schools lead to healthy young minds in our communities, and I'm incredibly proud of the partnerships we are forging to ensure every student has access to nutritious meals at school," Sen. Padilla said at the bill-signing ceremony. "From the Hunger-Free Students' Bill of Rights Act we passed six years ago ending lunchroom shaming, to this measure ensuring that every [student] will have access to free, nutritious meals, New Mexico continues to set a national example for addressing childhood food and nutrition security.
The Hunger-Free Students' Bill of Rights Act was originally designed to end what is known as lunch shaming, where students who couldn't afford their school lunch were given a meal separate from their peers in a way that singled them out.
"For many families in communities across New Mexico, access to a nutritious breakfast and lunch will fill an absolutely critical need, given that for some [students] these might be the only meals they have for that day," Sen. Jaramillo said at the singing. "No child should ever have to suffer from being hungry."
New Mexico Public Education Secretary Arsenio Romero in a statement equated nutritious meals, and their importance to the success of students, to textbooks, desks, and pencils.