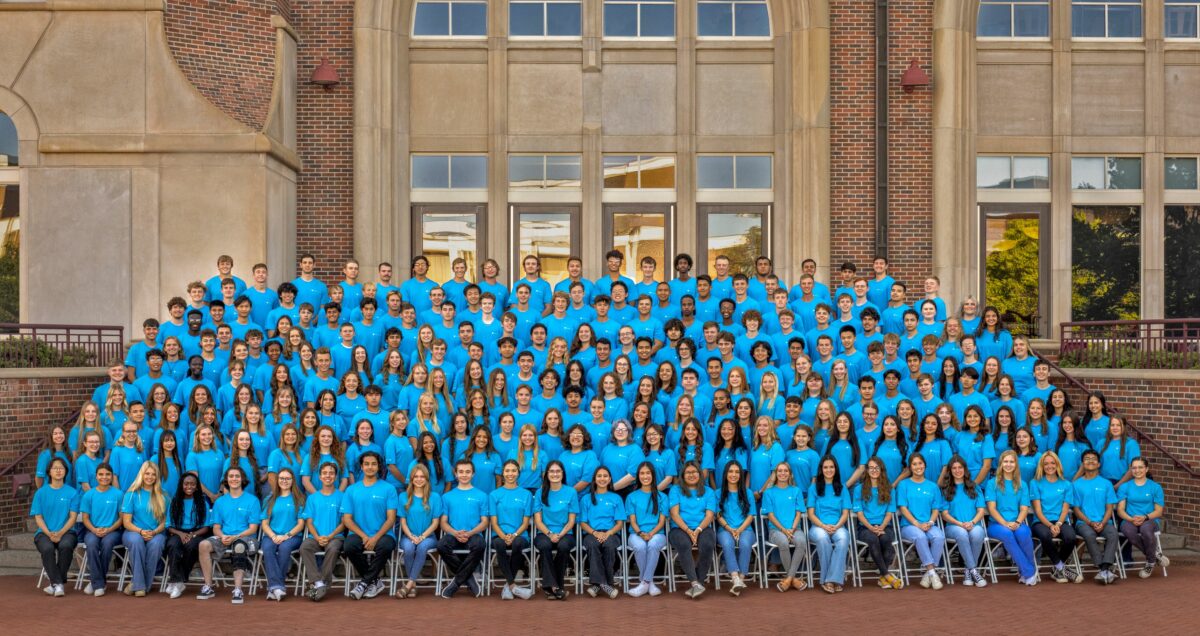 The Daniels Fund launched its annual Daniels Scholarship Program, providing high school seniors in New Mexico with an opportunity to pursue higher education without worrying about paying for it. The program, which has been available to students for over two decades, is accepting applications for the class of 2024, but the deadline to apply is Sunday.
Students preparing for graduation are encouraged to apply at DanielsFund.org before the application deadline of 4 p.m. on October 15. This scholarship offers a chance for motivated students to attend the college or university of their choice, furthering their educational dreams.
The Daniels Scholarship Program, established by cable television pioneer Bill Daniels, has been a source of hope for thousands of students. Since its inception in 2000, the Daniels Fund has awarded over $250 million in scholarships to more than 5,000 scholars.
One of the recipients, and a recent graduate of the University of Denver, is Eric Oquedo from Santa Fe. He graduated from Capitol High, and when asked about his initial aspirations, Oquedo shared that he had a broad interest in international studies and economics. He aimed to explore the world, gain cultural experiences, and delve into economic matters that influence global societies. Earning the Daniels Fund Scholarship provided him with the means to attend the University of Denver, where 95 percent of juniors study abroad, fulfilling his dream of international exploration. Oquedo spent four months at Pompeu Fabra University in Barcelona, Spain, gaining invaluable cultural exposure and traveling to ten different countries.
Eligibility for the program extends to high school seniors in New Mexico, Colorado, Utah, and Wyoming. The Daniels Fund scholarship caters to individuals who possess not only academic potential but also "strong character" and "ambitious goals".
Recipients of the Daniels Fund Scholarship receive several skill-building and support opportunities, Oquedo said these included mock interviews, one-on-one conversations with advisors, and invitations to events, which helped him connect with individuals in various industries. Today, he works in the finance industry and credits the Daniels Fund for making his employment possible. Oquedo said he continues to maintain a strong connection with the Daniels Fund community. This experience not only broadened his horizons but also paved the way for networking opportunities and career growth – all opportunities he credits to the Daniels Fund.
Daniels Fund President and CEO Hanna Skandera emphasized the transformative power of education, echoing Bill Daniels' belief. In a statement she said, "Bill Daniels believed a great education can be game-changing for young people with great potential, strong character, and big dreams," said Skandera. "We look forward to supporting the next generation of leaders, and the positive impact they will make with this opportunity."
Applicants must meet certain eligibility requirements, which include being a graduating high school senior, a resident of one of the four eligible states, and a U.S. citizen or permanent resident. Additionally, a minimum high school grade point average of 3.0 on an unweighted 4.0 scale is required. Applicants must also meet standardized test score minimums, with a minimum SAT math score of 490 and a minimum evidence-based reading and writing score of 490, or a minimum ACT score of 18 in each category, writing score not required.
Financial eligibility criteria involve the applicant's parents or legal guardians having an adjusted gross income of $100,000 or less on their 2022 tax return if the applicant is claimed as a dependent. Additional income is allowed for additional dependents.
"I would not have graduated from the University of Denver if it weren't for the Daniels fund," Oquedo said. During his time in Denver, Oquedo had a level of freedom that other students in his family's economic situation did not have. While his peers had to work jobs while attending school to pay for their studies, he didn't have to worry where the funding was coming from, allowing him to focus on college and make connections with people in various fields, connections he credits for his current success.
The Daniels Scholarship not only covers tuition but also offers various benefits, depending on the student's choice of school. Scholars can have their full cost of attendance covered at partner schools within New Mexico, Colorado, Utah, and Wyoming. For those choosing to attend schools outside this four-state region, up to $100,000 can be awarded over four years for educational expenses. Scholars attending schools within the four-state region but outside of the partnership agreement can receive $30,000 over four years for educational expenses.
Recipients of the Daniels Scholarship will receive a laptop computer, access to networking opportunities, leadership development, and career development opportunities.
The 2024 Daniels Scholars will be revealed in March 2024, marking the continuation of the program's tradition of empowering the next generation of leaders.
"[The Daniels Fund] opened my eyes to see that it is possible," Oquedo said, "Make sure that you're confident with who you are and what you wrote down in that application. You have to apply with the idea or the intention that you're fit for it and that you're going to receive [the scholarship]."
The Daniels Fund, guided by the vision of its founder Bill Daniels, is a private charitable foundation working to create opportunities for the lives of people in New Mexico, Colorado, Utah, and Wyoming through its grant programs, scholarship program, and ethics initiative.