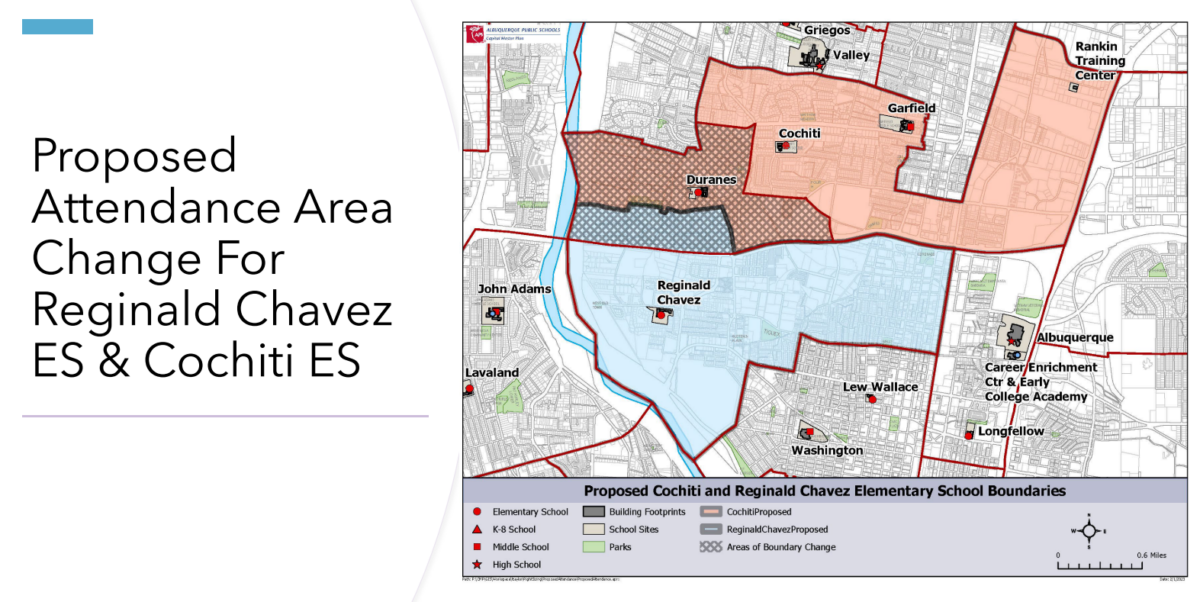 Albuquerque Public Schools cares for approximately 10,400 three- and four-year-olds. There is a growing need for early childhood care in New Mexico, which is why APS is working to create a facility to take care of younger students. The board approved a construction design firm to begin the process of designing a new facility at the existing Duranes Elementary School site.
APS has been focused on creating a plan to "right size" the district, allowing APS to close and consolidate schools which will help cut back on spending and accommodate a declining student population. APS voted to close La Luz Elementary and consolidate the Pre-Kindergarten students to Duranes in March. Recognizing a need to care for early childhood students, APS plans on using Duranes as a pilot facility for a new childcare initiative, preparing younger students for school while alleviating pressure on other facilities.
Pre-Kindergarten students from La Luz, MacArthur Elementary, Cochiti Elementary, and Reginald Chavez Elementary will be absorbed into Duranes. All other Duranes students will be absorbed mostly by MacArthur Elementary.
The new Duranes facility will have seven classrooms, hosting approximately 100 students in the first year, according to a projection by the APS strategic planning team.
Duranes had 48 preschool students last year. APS continues to see growth in their early childhood programs which is why Dr. Gabriella Blakey is confident the center will have around 100 students in its first year.
"Early childhood facility needs are similar, but not concurrent with the existing kindergarten standards, which exist and form the basis of our existing elementary school sites. Early childhood and kindergarten facility needs are more intensive than first- through 12th-grade facility needs," according to a document given to APS board members about the change. The redesign of Duranes will cost around $16 million. APS is only in the planning process, but Duranes will still open as an early childhood center for the 2023-24 school year.
According to Rosalinda Montoya, the Executive Director of Budget and Strategic Planning, the operation of Duranes in the 2022-23 period cost APS $3.3 million. Montoya said maintaining Duranes in its current state will only increase the cost of operating the facility. She said the increasing cost would be attributed to decreasing student enrollment, resulting in reduced state funding for the school.
Montoya said that even if the student count remains at just 100 and the center operates at a slight loss, it would still be less expensive than leaving the school the way it is.
Board members debated approving an architectural firm, putting the whole project at risk. APS Vice President Peggy Mueller-Aragón expressed concern about the future cost of Duranes. Board Member Crystal Tapia Romero said she was concerned about filling classrooms and was not confident that there is a need for a large early childhood center when birth rates and APS' student population were declining. Board Member Courtney Jackson shared concerns with the other members and said that she wants to see more community outreach to better understand how APS can help students and families in the community.
Board Member Danielle Gonzales said that she isn't concerned about seeing empty classrooms in the new facility. She acknowledged a significant change in state law for the coming school year: Early childhood education is now a constitutional right. "That is where these students are going to come from," she said.
The board approved an architectural firm, SMPC Architects, to start a design plan for Duranes. Mueller-Aragon, Tapia Romero, and Jackson voted against selecting an architecture firm.