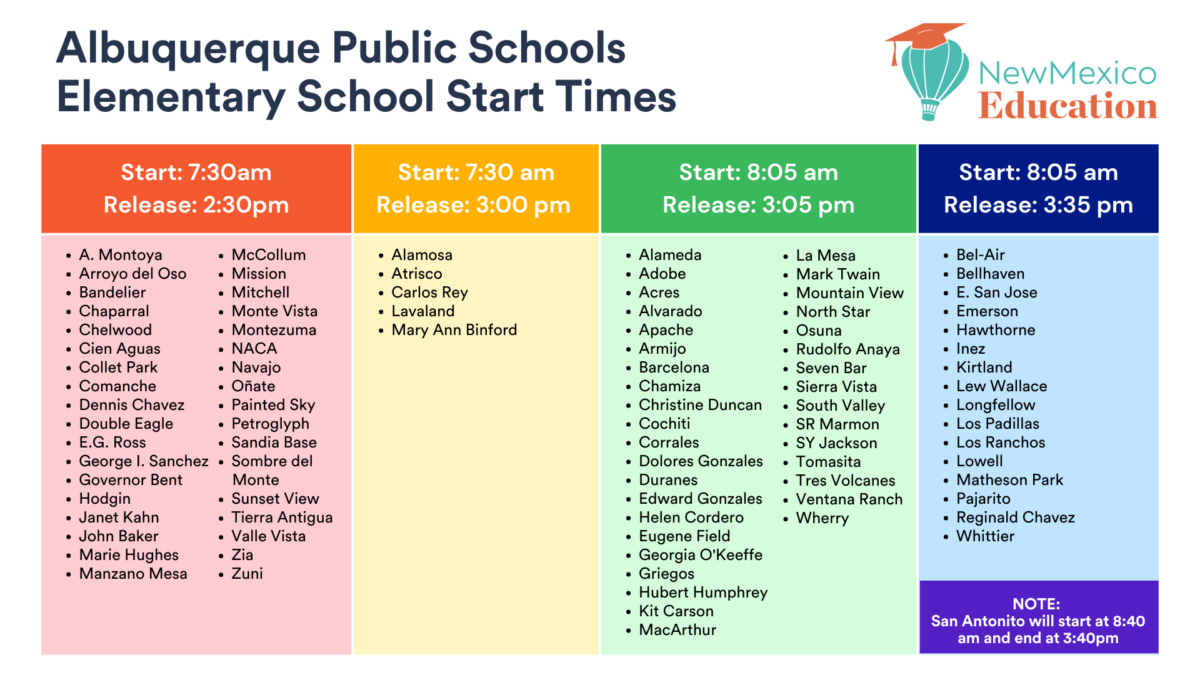 Albuquerque Public Schools will have later start times for the 2023-2024 school year than in years past.
The change comes after the school district reviewed studies about positive impacts on middle- and high-school student mental health when class starts later in the morning.
Middle schools will see an hour difference to their start times compared to the current school year. Currently, all middle schools begin at 8:15 a.m. and release just after 3 p.m. Under the new schedule, middle schools will begin at 9:15 a.m. and release at 4:15 p.m. Only Roosevelt Middle School will begin earlier – at 7:30 a.m. – and release earlier – 2:30 p.m.
Under the new schedule, high schools will start an hour later than their current start time. High schools will formally start their day at 8:40 a.m. and release at 3:40 p.m., with all extracurricular and athletic activities beginning after school.
The new start and end times also make substantial changes to elementary school schedules. Most elementary schools will start at 7:30 a.m. and end at 3:30 p.m., while some will start at 8:05 a.m. and end at 3:05 p.m.
Superintendent Scott Elder noted that elementary schools require staggered schedules because of a shortage of buses and bus drivers.
Elementary schools already have staggered start times. The change for the upcoming school year simply pushes those start times earlier. Currently, some schools begin at 7:45 a.m. and end just before 2 p.m., while others start after 9 a.m. and end just before 4 p.m. Check below for a full list of elementary schools and their new start times.
"We recognize that this change will be disruptive to our families, but the research is clear that this is the right thing to do," said Superintendent Scott Elder. "It will take some getting used to, but our kids will be better off for it."
Impacts on Mental Health
APS and the Albuquerque Teachers Federation worked together in a joint task force to find the best ways to support the mental health and productivity of high- and middle-schoolers during the school day. The task force reviewed a 2014 article in the American Academy of Pediatrics called School Start Times for Adolescents and a 2022 article from the US Centers for Disease Control and Prevention called Schools Start Too Early both of which address the functionality of middle and high school students who start school earlier in the day compared to those who started school later in the day.
"The group considered a wide breadth of research on the importance of adolescents starting school later than the current APS schedule," the task force wrote in its recommendation. "The body of research agrees that adolescents should not begin school prior to 8:30 a.m. in order to support productive, healthy sleep patterns and brain development."
The research reviewed by the task force notes that adolescent brains are wired in such a way that they fall asleep later in the night and wake up later in the morning, and that early start times for those students interferes with their natural brain rhythms.
To further advance their point, the taskforce wrote, "[A] lack of sleep in adolescents is associated with such health risks as being overweight, drinking alcohol, smoking tobacco, and using drugs. The CDC also notes that failure to get enough sleep is associated with poor academic performance."
APS is not the first district in the state to enact later start times for students. Both Santa Fe Public Schools and Las Cruces Public Schools have done so as well. "We've been tasked with improving student outcomes, and part of that is taking a hard look at what's working and what's not working in our schools," said Dr. Channell Segura, APS Chief of Schools. "Early start times for high school students are not working, and it's time for us to step up and do something about it."
Elementary School Start Times
Schools starting at 7:30 a.m. and releasing at 2:30 p.m., in alphabetical order:
A Montoya, Arroyo del Oso, Bandelier, Chaparral, Chelwood, Cien Aguas, Collet Park, Comanche, Dennis Chavez, Double Eagle, EG Ross, George I. Sanchez, Governor Bent, Hodgin, Janet Kahn, John Baker, Marie Hughes, Manzano Mesa, McCollum, Mission, Mitchell, Monte Vista, Montezuma, NACA, Navajo, Oñate, Painted Sky, Petroglyph, Sandia Base, Sombre del Monte, Sunset View, Tierra Antigua, Valle Vista, Zia, Zuni
Schools starting at 7:30 a.m. and releasing at 3 p.m., in alphabetical order:
Alamosa, Atrisco, Carlos Rey, Lavaland, Mary Ann Binford
Schools starting at 8:05 a.m. and releasing at 3:05 p.m., in alphabetical order:
Alameda, Adobe Acres, Alvarado, Apache, Armijo, Barcelona, Chamiza, Christine Duncan Charter, Cochiti, Corrales, Dolores Gonzales, Duranes, Edward Gonzales/Helen Cordero, Eugene Field, Georgia O'Keeffe, Griegos, Hubert Humphrey, Kit Carson, MacArthur, La Mesa, Mark Twain, Mountain View, North Star, Osuna, Rudolfo Anaya, Seven Bar, Sierra Vista, South Valley, SR Marmon, SY Jackson, Tomasita, Tres Volcanes, Ventana Ranch, Wherry
Schools starting at 8:05 a.m. and releasing at 3:35 p.m., in alphabetical order:
Bel-Air, Bellhaven, E. San Jose, Emerson, Hawthorne, Inez, Kirtland, Lew Wallace, Longfellow, Los Padillas, Los Ranchos, Lowell, Matheson Park, Pajarito, Reginald Chavez, Whittier
Schools starting at 8:40 a.m. and releasing at 3:40 p.m.::
San Antonito