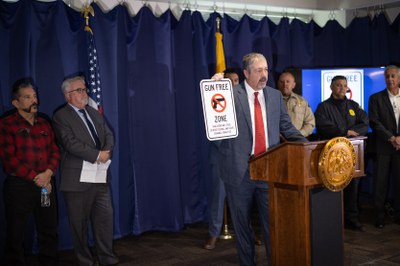 Prosecutors from the United States Department of Justice, law enforcement officials for Bernalillo County and the City of Albuquerque, and Albuquerque Public School district joined forces at the end of March to make a clear statement: Guns are not allowed on public school grounds.
To make it clear to everyone that firearms are not allowed on school grounds, officials wanted to go on offense and clarify the penalties that will be imposed on those who bring guns onto school property.
Having a firearm on school grounds is a crime in New Mexico, but federal law goes further by making it a crime to have a firearm within 1,000 feet of any school. Together, the federal government and local officials are making it clear: Firearm-related offenses at APS will not be tolerated.
"My message to every student, to every member of this community, especially to the students: You may think that somehow bringing a gun to school might be cool," Bernalillo District Attorney Sam Bregman said, "It's not. Don't ruin your life by bringing a gun onto a school campus."
APS Superintendent Scott Elder said that so far in 2023, the school district has had 13 different instances where firearms were brought onto school campuses. "We've had a steady chorus of students and staff demanding that we do something about the gun threats on their campuses," Elder said.
Taking the Threat Seriously
Bregman pledged to have an on-call prosecutor ready to target firearms-related offenses on school grounds, saying that the prosecutor will be available 24-hours a day, seven days a week, 365 days a year. "There will be zero tolerance and no excuses," Bregman noted, "Don't even think about bringing a gun on school grounds in Bernalillo County. You will be arrested and you will be prosecuted for a felony."
Alex Uballez, U.S. Attorney for the District of New Mexico, said: "Our children deserve open playgrounds, they deserve to not have to walk through metal detectors, they deserve schools that don't look like prisons. This is our city. This is our home. Let's treat it with respect."
Bernalillo County Manager Julie Morgas Baca agreed with the prosecutors, and said that Bernalillo County would be placing metallic "Gun-Free Zone" signs for schools across the county.
Even inadvertently bringing a gun onto school grounds is a crime. DA Bregman said this applies to everyone, even if a student drives to campus in a vehicle containing a firearm a parent forgot to remove. Bregman said that parents who do not properly lock up their firearms, and leave them within reach of students who take the weapons to school, will be prosecuted starting in June under the new Bennie Hargrove Gun Safety Act.