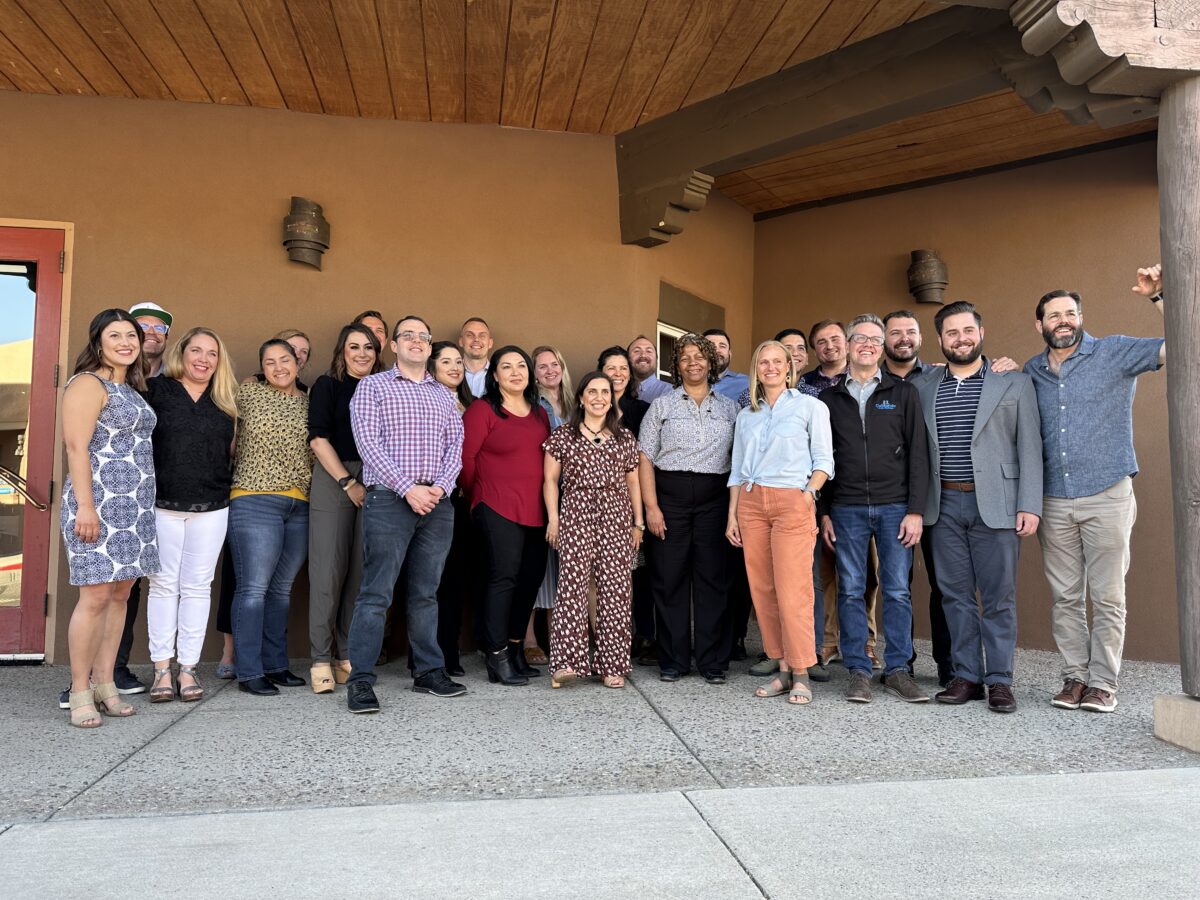 Over the past nine months, a group of New Mexico leaders took part in a series of in-depth learning experiences, school visits and discussions about New Mexico's education as part of the second cohort of the Changemakers Fellowship.
The fellows heard from education leaders, traveled to Illinois to see and learn from different school models, and had the opportunity to visit a variety of schools in New Mexico.
On May 9, NewMexicoKidsCAN and Excellent Schools New Mexico graduated a class of 28 Changemakers who successfully completed the fellowship.
"The gaps that we continue to see in education are oftentimes not reflective of the broader community," said Dr. Rick Rodriguez, 2023 Changemakers graduate. "Changemakers… brings people together from across sectors and across lived experiences to learn a little bit more about the landscape, but within that, to empower each other, and as a collective, identify what are the action steps, what are the gaps, and what are the necessary things that need to happen for us to collaborate on and move the needle as a collective," he said.
Rodriguez came to New Mexico from Texas, understanding the current state of education and wanting to help bring positive progress to the state. "I wanted to be intentional about identifying individuals who are invested in education in this state so we can move the needle," Rodriguez said.
Changemakers brings together people from a variety of backgrounds, like 2023 graduate Holly Siebert who works as an architect. "[Changemakers] allowed me to feel like I can keep my community accountable in the area where my kids go to school, and where my friend's kids go to school. I can help them know they can ask questions," Siebert said, explaining that she walked away from Changemakers with new tools to encourage school leaders. "We need to encourage people who want to be leaders to get involved in education," she said.
Michael Feferman, a father of two elementary school students, said he is going to use the tools he acquired from the fellowship to help improve education in the state. He said he now understands how to ask about the tools being used in the classroom, teacher pay, and school budgets.
"All of these sessions were hopeful and inspiring, it's not just one hopeless mess," Feferman said. "It may be a big mess, but there are some things that we can do to change education for the better and there are examples about where this happened. There are people for us to talk to about how they did it. All of that is inspiring and gives us something to build from."
The class traveled to Chicago, to visit high-performing schools. Siebert said that she enjoyed learning about opportunities educators have for leadership growth from the Chicago trip. Other graduates said the trip gave them an opportunity to see in action tools and curriculum they had learned about during the fellowship.
Rodriguez said he found "hope in what education can look like." Every participant of Changemakers said they felt empowered after the fellowship ended, to address education in their communities to "change things for the better," according to Feferman.
2022-23 Graduates
Changemakers is a nine-month fellowship where participants attend five, half-day education learning experiences; one out-of-state trip in the spring to experience high-performing schools that are making advancements in local education; and will attend at least one school district meeting in New Mexico. To learn more about Changemakers, or to apply for the opportunity, click here.
Adrienne Adams
Yasine Armstrong
Kyle Biederwolf
Nathan Brooks
Brian Buffington
Arianna Chavez
Zach Chavez
Nina Cooper
Concha Cordova
Arlene Espinoza-Armijo
Katie Esquibel
Michael Fefermam
Jacob Fox
Jeff Hoehn
Madison R. Jones
Emma Lewis
Angela Lopez
Josh Lujan
Matt Makofske
Matt O'Brien
Olivia Padilla-Jackson
Rick Rodriguez
Sarah Rovang
Gloria Ruiz
Holly Siebert
Adam Silverman
Tiare Tawil
Reilly S. White