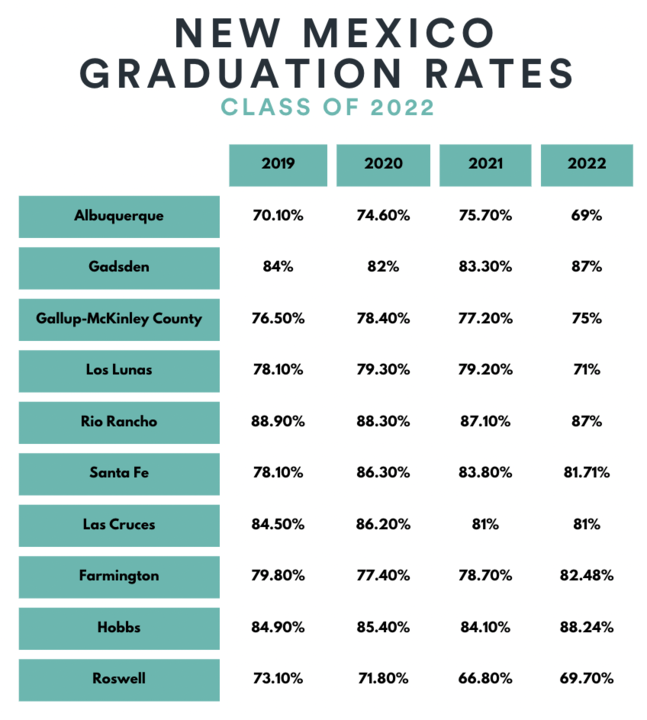 The New Mexico Public Education Department has quietly released graduation data for the class of 2022. This data was released later than usual and without so much as a press release alerting the public to its release. This data is typically released within the same year of graduation, but this data was released 16 months after the class of 2022 graduated. The class of 2022 were sophomores when schools were closed in March of 2020, and many had limited or no in person learning available through most of their junior year.
Graduation rates in New Mexico for the class of 2022 revealed a marginal decline compared to the previous year, according to data released by the state's education department. The data, which includes analysis of student subgroups, underscores continued disparities in educational outcomes.
The overall four-year graduation rate for all students in New Mexico in 2022 stood at 76 percent, marking a slight decrease from 2021's rate of 76.8 percent. To put this data into context, in 2019, the statewide graduation rate stood at 75 percent, but the following years showed incremental progress. In 2020, during the COVID-19 pandemic, the rate increased to 76.9 percent.
Gender disparities persisted in 2022, with female students outperforming their male counterparts. Females boasted an 80 percent graduation rate, while males lagged with a rate of 73 percent.
Examining ethnic and racial differences, Asian students emerged with the highest graduation rate at 88 percent, while Caucasians were not far behind at 79 percent. African American students graduated at a rate of 70 percent, while Hispanic students graduated at a rate of 76 percent. Native American students graduated at a rate of 72 percent, and those identifying as multiple races reached a 75 percent graduation rate.
Economically disadvantaged students, measured by eligibility for Free/Reduced Lunch programs, have a graduation rate of 72 percent. Students with disabilities experienced a slightly lower graduation rate of 67 percent.
English Language Learners exhibited a graduation rate of 76 percent. However, homeless students faced substantial challenges, with a low graduation rate of 61 percent. Students with military affiliations displayed a robust graduation rate of 87 percent, while those in foster care had the lowest rate at just 49 percent.
Comparing the 2022 data to 2021, New Mexico's overall graduation rate experienced a slight dip of 0.8 percentage points. Gender disparities remained consistent, with females continuing to outperform males.